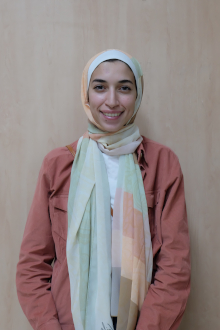 I'm graduated from environmental architecture department, environmental urbanism track 2020, at faculty of engineering Ain Shams University, through my academic study I've learned more about eco and sustainable design, and I've attended ''Health & sustainability in architecture'' workshop in Italy.
I'm now working as a coordinator and researcher assistant in the smart and future cities laboratory (SFCL), and I've been an instructor in the Digital Fabrication workshop, beside my work at SFCL I'm a teaching assistant at faculty of engineering ASU.
After graduation I started working in several projects as the Cairo urban AI charter, and now I'm a part of the team of ''The local area development plans in two areas in Cairo -participatory infrastructure project'', and in the team of project '' preparing the urban character guidelines on the urban district level-Cairo Governorate ''. 
I'm interested in smart city concepts and how we could integrate Urban AI with Urban sustainability, therefore I enrolled in the Maker Diploma where I learnt more about sensors, circuits and integrated it with my field of study in the final project ''Smart enclosed outdoor space''.