An interactive Summer School that rings the bells of Simulation-Aided Design in Architectural and Urban contexts
June 2018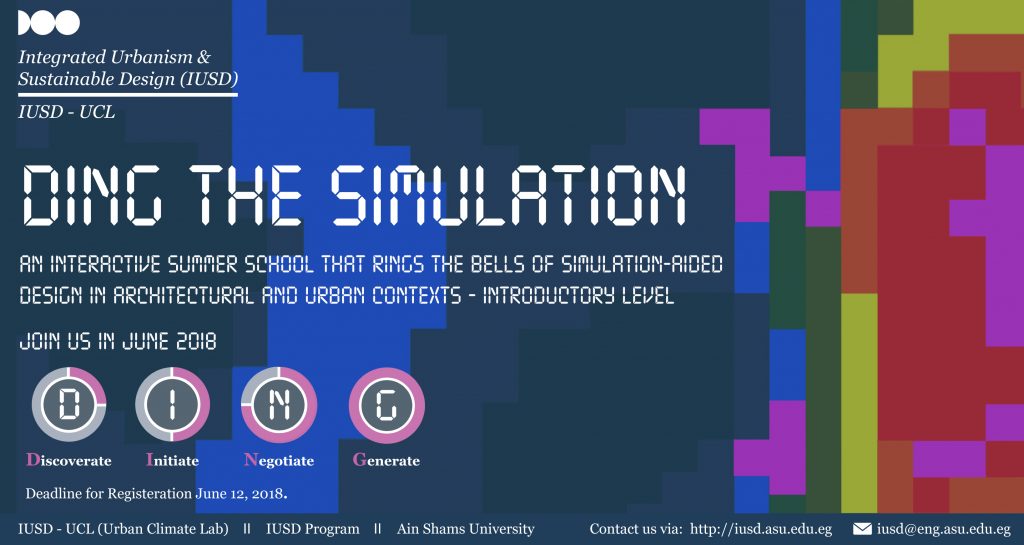 WHY SIMULATION-AIDED DESIGN?
Simulation software tools gives us with the ability to quantitatively test the performance of our designs without having to go through the costly implementation phase. Mastering simulation tools as well as simulation-aided design techniques is an absolute necessity for all professionals in the field of shaping the built environment. DING summer school targets young professionals and beginners to introduce them to this field.
"Tool or Technique? It's time to DING both", but what is DING?
DINGING
DING summer school adopts a four-phase process:
DISCOVERATE, INITIATE, NEGOTIATE and GENERATE phases that take you into a journey through simulation-aided design.
PACKAGES
Whether your  major is Architecture, Urban planning or Landscape design, you will find a DING package suitable for your specialization. You can choose to  join: package 1, package 2 or both.
Package 1: DING OUT
Focuses on studying outdoor spaces of the built environment and the surrounding landscape using ENVI-met software.
June 21, 22 & 23. 2018
Package 2: DING IN
Focuses on studying Buildings' indoor quality, comfort as well as energy consumption using Design Builder software.
June 21, 27, 28 & 29. 2018
WHO CAN APPLY?
Fresh graduates or Undergraduate students interested in immersing themselves in the new interactive experience of DINGING through Simulation Aided Design process and Techniques.
For registration and further details about the procedure and fees please visit the following link, Deadline for registration is 12 June 2018.
For further inquiries, contact IUSD-UCL team via email:
iusd@eng.asu.edu.eg
Take the Step and come to DING summer school, and join us.
IUSD-UCL (Urban Climate Lab)
IUSD Program at Ain Shams University
Ain Shams University, Faculty of Engineering
1 El-Sarayat Street
11517 Abbasiya, Cairo, Egypt
+ 2026830416
iusd@eng.asu.edu.eg