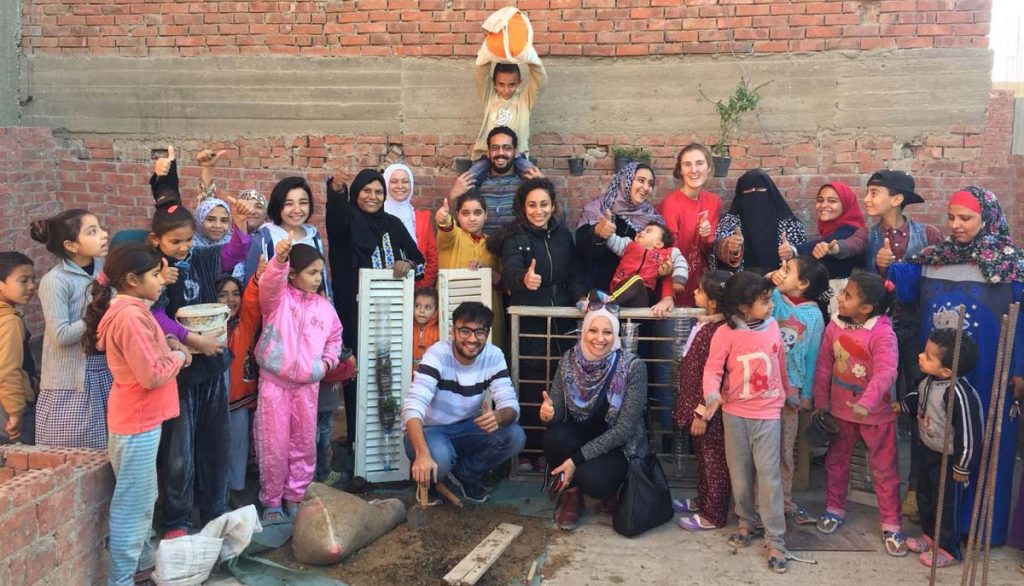 This year, the ICS module took place in "El-Mala'a" which is an unplanned settlementon arable land located in Helwan district, at the fringes of South Cairo. The main theme focused on ruralisation and urbanisation of unplanned areas of Cairo, looking through the lens of resilient development for areas in transformation.
To develop design projects, The students went through five successive phases. In the preliminary phase, students conducted desk top research to understand the phenomenon of "r-urbanisation" around the world. They then conducted an extensive research phase to understand the phenomenon of informality and transformation in Cairo. Based on this foundation, the student began the third phase, where they mapped opportunities for resilience in El-Mala'a area using conceptual schemes of social subsystems and ecological subsystems. This involved intensive work on site to absorb information from the field and synthesise the interlinkages and resilience performance of the area. Based on this comprehensive analysis, the students identified key issues for formulating interventions. Upon identifying a wide range of interventions, they were cascaded in the  integrated strategic actions pyramid for El-Mala'a resilient development of El-Mala'a. In phase four, students prepared design briefs for potential interventions and worked with the community, to select the final projects.
In the final phase of the module, the students developed action plans for 2 selected projects. To test the applicability of concepts and hypotheses developed in the preliminary action plan, the student conducted an experimentation period.  The first project is the "Low-Value Waste Management in El-Mala'a" project aims at the enhancement of the economic and environmental resilience capacities of El-Mala'a through the promotion of a sustainable waste management strategy centred on community entrepreneurship and innovation. In the pilot phase of this project, the students worked with the ladies of the Local NGO to develop prototypes of crochet bags out of plastic bags. The second project is "Helwan Urban Gardens"  which aims to turning the traditional activity into a more viable and sustainable format, with covering equally social, economic and environmental aspects. In the pilot phase of this project, the students worked with interested ladies and children on one rooftop to develop low cost bottle tower farming prototype as a kick-start urban farming in the area. In the final stage of the project, the students held an exhibition presented and discussed their projects with consultants and experts as well as NGOs, and CSR representatives as a step to handover the projects to the community.