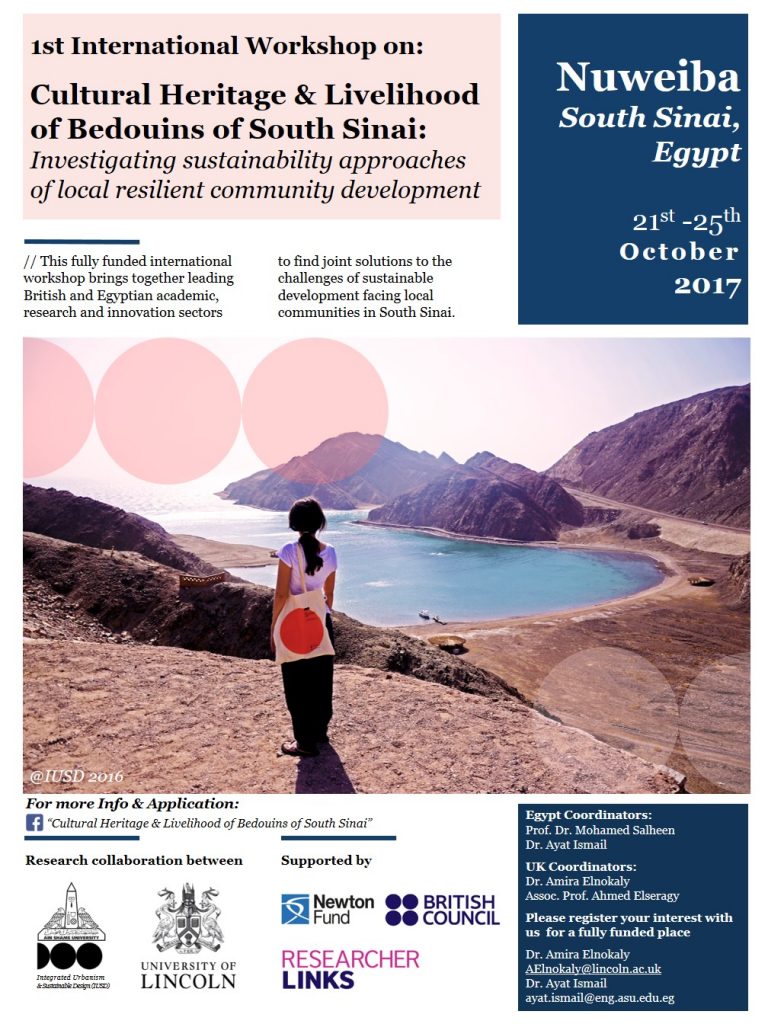 This workshop is coordinated by the University of Lincoln (School of Architecture & Design) UK & Ain Shams University (IUSD Program) Cairo, Egypt.
This is a fully funded international research workshop that brings together leading British and Egyptian academics, researchers and innovation sectors to find joint solutions to the challenges facing Egyptian Sustainable Development in South Sinai. The project is an international research collaboration between the Lincoln School of Architecture and Design, UK and Ain Shams University, Egypt; funded by the Newton Musharafa Researchers link and the British Council, 
The workshop supports research areas much needed in the developing world more generally & in Egypt more specifically with the changes of the political agenda and the aspirations of the country to 'Rebuilding resilient communities through a strategic sustainable development plan. The workshop themes and objectives are relevant to the economic development, social welfare and SD in Egypt. 
Who can Apply: Participants in the workshop must have a PhD or equivalent research experience.
Funding Includes*: Flights, accommodation, breakfast, coffee breaks and dinner.
                                       * Please note this application does not support visa fees and transfer to and from the airport (Egypt candidates) – UK candidates will include transportation to and from the hotel.
Deadline for Submission: 15th May 2017
Discipline: Cultural Heritage; Resilient Cities; Environmental Design; Sustainable Architecture, Urban Planning, Planning, Arts, Interconnected communities and Related Fields
Dates and venue: 21st -25th October 2017; Neweiba, Egypt
Please register your interest with us for a fully funded place through filling in the application form  (download through  the WS Facebook page) and send it via an email to:
UK Coordinator: Dr. Amira Elnokaly (aelnokaly@lincoln.ac.uk)
Egypt Coordinator: Dr. Ayat Ismail (ayat.ismail@eng.asu.edu.eg)